Documents:

Peek Inside Policing Wildlife.pdf (1013.34 KB)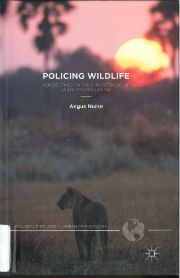 Policing Wildlife, Angus Nurse, Palgrave Macmillan (2015).
Wildlife crime is a fringe area of criminal justice, despite its importance as one of the highest value areas of global crime and its long term effects on ecosystems. This book examines the enforcement of wildlife law, one of the fastest growing areas of crime globally. It examines the extent of wildlife crime, the role of NGOs in policy development and practical law enforcement, and considers how justice systems deal with contemporary wildlife crime.
Policing Wildlife importantly examines the pressing threat of organised crime and terror groups in wildlife crime. It highlights the weaker enforcement regimes and more lenient attitudes to wildlife crimes by the courts, despite the strong provisions which actually exist in wildlife law. Ultimately, it considers how enforcement regimes need to adapt to contemporary wildlife crime threats and argues for the better integration of wildlife crime into mainstream justice systems.
For more and to order the book, go to Palgrave Macmillan publisher at http://www.palgrave.com/page/detail/policing‐wildlife‐angus‐nurse/?isb=9781137400000
For a peek inside at the cover and table of contents, see the attached pdf file!