Documents:

Peek Inside Legal Personhood - Animals, Artificial Intelligence and the Unborn.pdf (364.88 KB)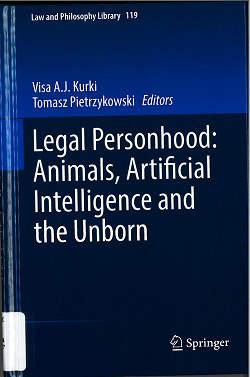 Legal Personhood: Animals, Artificial Intelligence and the Unborn, Visa A.J. Kurki and Tomasz Pietrzykowski, Editors, Springer (2017).
This edited work collates novel contributions on contemporary topics that are related to human rights. The essays address analytic-descriptive questions, such as what legal personality actually means, and normative questions, such as who or what should be recognised as a legal person. As is well-known among jurists, the law has a special conception of personhood: corporations are persons, whereas slaves have traditionally been considered property rather than persons. This odd state of affairs has not garnered the interest of legal theorists for a while and the theory of legal personhood has been a relatively peripheral topic in jurisprudence for at least 50 years.
As readers will see, there have recently been many developments and debates that justify a theoretical investigation of this topic. Animal rights activists have been demanding that some animals be recognized as legal persons. The field of robotics has prompted questions about driverless cars: should they be granted a limited legal personality, so that the car itself would be responsible for damages?
This book explores such concepts and touches on matters of bioethics, animal law and medical law. It includes matters of legal history and appeals to both legal scholars and philosophers, especially those with an interest in theories of law and the philosophy of law.
To order the book and for more information, go to http://www.springer.com/us/book/9783319534619
For a peek inside at the cover and table of contents, see the attached pdf file!