Documents:

Peek Inside Canadian Perspectives on Animals and the Law.pdf (821.29 KB)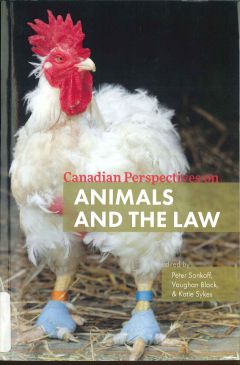 Canadian Perspectives on Animals and the Law, Peter Sankoff, Vaughan Black, and Katie Sykes (editors), Irwin (2015).
Canadian Perspectives on Animals and the Law provides an important new contribution to the debate on the legal status and treatment of animals in Canada. Twelve chapters by leading academics and practising lawyers address a range of doctrinal and conceptual questions, situating legal analysis in the broader context of ethical and philosophical debate about justice in human-animal relationships. Topics addressed include the Ikea monkey case, key shortcomings in Canada's animal cruelty law, the relationship between animal rights and the rights of Canada's indigenous peoples, and the emergence of animal protection in international law. This volume should be invaluable for scholars, practitioners and students eager to explore these matters in greater depth, and an excellent resource for law school courses on animals and the law.
For more and to order the book, go to Irwin Law, Inc. publishers at http://www.irwinlaw.com/titles/canadianperspectives‐animals‐and‐law
For a peek inside at the cover and table of contents, see the attached pdf file!