Documents:

Peek Inside Animals and the Law.pdf (717.7 KB)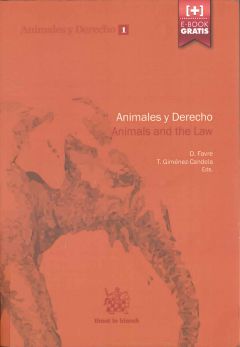 Animales y Derecho (Animals and the Law), Favre, D. and Gimenez‐Candela, T. (editors), Tirant Lo Blanch (2015).
RECENSIÓN DEL LIBRO ANIMALES Y DERECHO.
Por Oriol Caudevilla.

Nos alegra mucho que nuestra Editorial "Tirant lo Blanch", haya creado esta colección de libros destinada a los problemas ju ridicos que afectan al Bienestar Animal y al Derecho Animal. Los animales se nos presentan, a dia de hoy, conectados con un gran número de cuestiones de importancia creciente, tanto en el ámbito politico como en el social. Se trata en definitiva de dilucidar cómo los seres humanos hemos de tratar a los animales con los que compartimos este increíble planeta. Los interrogantes a resolver van desde los -aparentemente más modestos- de cómo tratar a nuestros animales de compañía a cuestiones de gran repercusión como la forma de tratar al ganado a nivel global. ¿Qué hay que hacer con los elefantes africanos, o qué debemos hacer con los perros callejeros que viven en nuestras ciudades?. Existen cuestiones de ciencia y de tecnología, hay normas culturales y la necesidad humana de compañía, pero el enfoque de esta colección se referirá a las cuestiones jurídicas y de políticas públicas que rodean a los animales. Si bien el sistema legal de cada país es diferente de otro, los asuntos relativos a los animales se mantienen constantes; un perro es un perro donde quiera que viva. Como muchos de los problemas de bienestar animal son universales, se puede avanzar mucho tratando de entender cómo los diferentes sistemas jurídicos tienen un nexo común sobre diversos temas de animales. Esta colección está enfocada muy principalmente al mundo de habla española, pero en ella también se dará cabida a autores y temas procedentes de otras latitudes, por lo que presentaremos volúmenes específicos en materias de interés global. Este primer volumen es un claro ejemplo de nuestro amplio enfoque, pues en él se conjuntan voces de expertos de todo el espectro mundial, que aportan sus conocimientos y su experiencia para que todos podamos aprender de ellos cómo podemos ayudar mejor a los animales, cómo podemos mejorar su bienestar y su protección en diferentes sistemas jurídicos.
To order the book, go to Tirant Lo Blanch publishers at http://www.tirant.com/editorial/libro/9788490538579
For a peek inside at the cover and table of contents, see the attached pdf file!