Documents:

ICALP Flyer.pdf (340.82 KB)
The Animal Law Researchers' Clinic is a space for dialogue and learning for scholars and professionals of all ages, countries, genders and positions, with the common nexus of listening to one's own voice and that of other colleagues working in the field of Animal Law and related sciences. It is a forum of ideas and activities that takes the animal world as the centre and basis of reflection.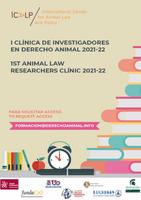 For more including the selected scholars and their research pods, see the attached pdf file!