Documents:

Peek Inside Animal Law and Welfare - International Perspectives.pdf (321.16 KB)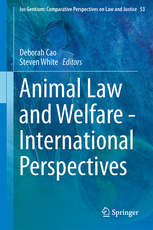 Animal Law and Welfare - International Perspectives, Deborah Cao and Steven White (Eds.), Springer (2016).
This book focuses on animal laws and animal welfare in major jurisdictions in the world, including the more developed legal regimes for animal protection of the US, UK, Australia, the EU and Israel, and the regulatory regimes still developing in China, South Africa, and Brazil. It offers in-depth analyses and discussions of topical and important issues in animal laws and animal welfare, and provides a comprehensive and comparative snapshot of some of the most important countries in the world in terms of animal population and worsening animal cruelty. Among the issues discussed are international law topics that relate to animals, including the latest WTO ruling on seal products and the EU ban, the Blackfish story and US law for cetaceans, the wildlife trafficking and crimes related to Africa and China, and historical and current animal protection laws in the UK and Australia. Bringing together the disciplines of animal law and animal welfare science as well as ethics and criminology with contributions from some of the most prominent animal welfare scientists and animal law scholars in the world, the book considers the strengths and failings of existing animal protection law in different parts of the world. In doing so it draws more attention to animal protection as a moral and legal imperative and to crimes against animals as a serious crime.
For more and to order the book, go to Springer at http://www.springer.com/us/book/9783319268163

For a peek inside at the cover and table of contents, see the attached pdf file!